Toile de Jouy : a unique and exclusive design
The Toile de Jouy is a classic design from the 18th century. It is remarkable thanks to its white or beige tint showing people's daily life. It is an art mainly used on linen or cotton fabric for upholstery, curtains, and other indoor furniture. This timeless design is a must-have for textile wholesalers' companies because it remains popular among its customers.
To create this unique and exclusive design, Tissus d'Avesnières prepares, tints, prints and finishes the fabric. Conception studying is really important because it will help to decide which fabric has to be chosen, and which printing process has to be used to reveal the original beauty of the motif. Any printing process to print a Toile de Jouy must be done carefully so the details can be revealed on the high-quality fabric at the end of production.
The Toile de Jouy is well-known for its designs reflecting the daily life of the 18th century: farming, picnic, hunting… It is also well-known for its complex details making it so different and unique. The use of high-quality fabric in the printing process guarantees that the final product is the best quality, making it a must have for clients.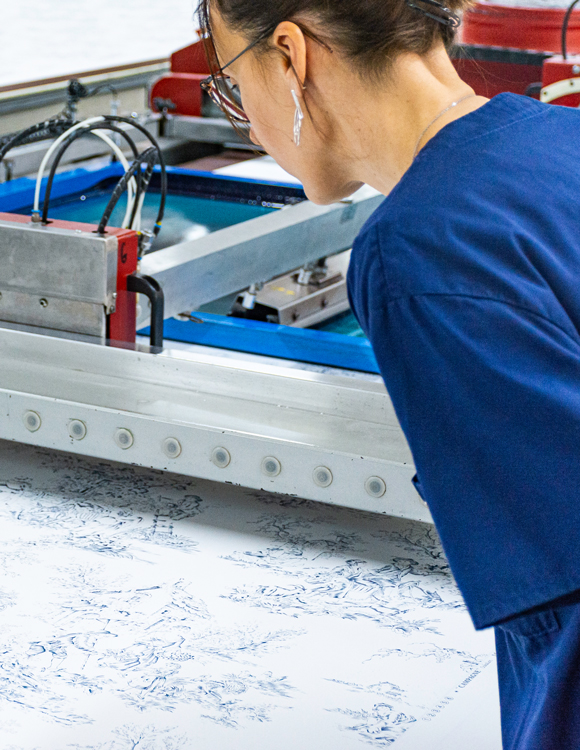 How the Tissus d'Avesnières prints the Toile de Jouy
To design this motif, Tissus d'Avesnières carefully prepares, prints and finishes the fabric.
There are different stages in the creation process of a Toile de Jouy, requiring specific technical knowledge and techniques. The first stage is the conception study: Tissus d'Avesnières will work with the client to choose the ground-cloth and the printing process. This conception study is a very important step to make sure we will answer our costumers' needs.
After the conception study, the cloth is bleached and cleaned, and the printing process can start with the right colours to create the right design.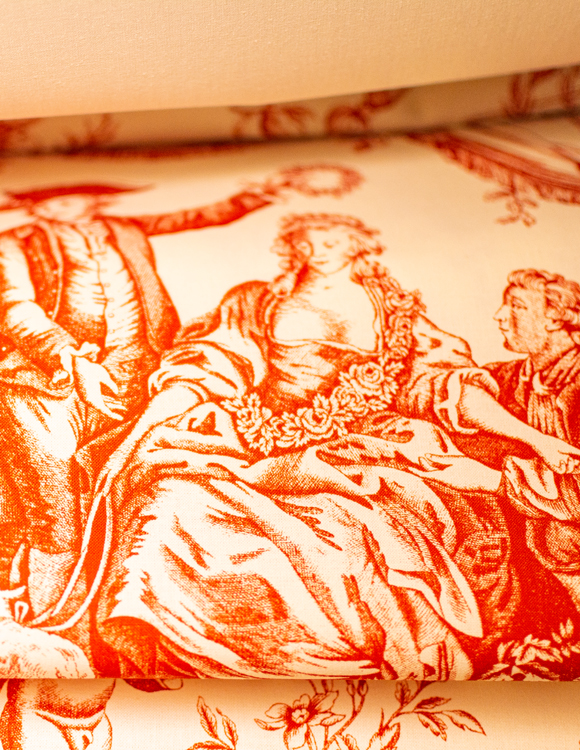 A traditional process of printing the Toile de Jouy
The fabric printer uses traditional printing techniques to create some unique and exclusive designs. Tissus d'Avesnières carefully applies the colours on the fabric thanks to many technical industrial tools. At the end you get a high-quality fabric, perfect for upholstery, curtains, or other indoor furniture's.
To conclude, the Toile de Jouy has been a traditional design for centuries. All the unique and exclusive creations made from the traditional way of printing on fabric have helped making these designs so popular. Fabric printers and textile companies keep producing and using this design because it is intemporal, and creates elegance and sophistication no matter the place.